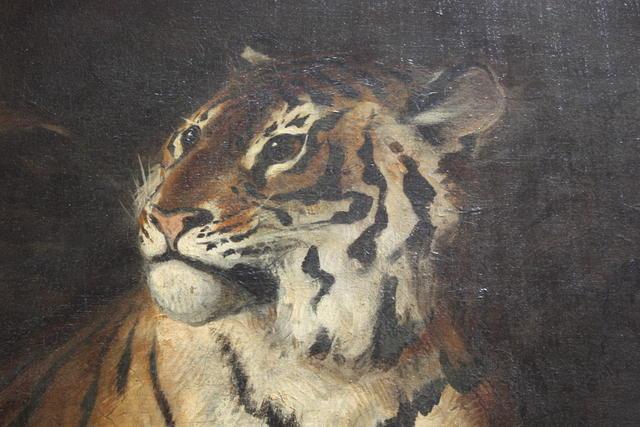 Presenting vintage audio from the archives at Naropa – Allen Ginsberg in 1978 with the Buddhist Lion Tiger Band. 
June 21 1978 is the date of this performance. The accompanying musicians -, Bill Douglas (resident musician on the faculty at Naropa) on electric piano, Glen Moore and Colin Walcott (of Oregon) on viola and Indian drums respectively, Andy Smith – doumbek (goblet drum) , Glenn Edwards, trumpet and Peter Orlovsky, back-up vocals
Tyger Tyger, an exended version of Allen's setting of a William Blake's lyric opens the set. Be patient. Allen's vocal doesn't come on until approximately nine minutes in.
Tyger Tyger, burning bright,
In the forests of the night;
What immortal hand or eye,
Could frame thy fearful symmetry?
In what distant deeps or skies.
Burnt the fire of thine eyes?
On what wings dare he aspire?
What the hand, dare seize the fire?
And what shoulder, & what art,
Could twist the sinews of thy heart?
And when thy heart began to beat,
What dread hand? & what dread feet?
What the hammer? what the chain,
In what furnace was thy brain?
What the anvil? what dread grasp,
Dare its deadly terrors clasp!
When the stars threw down their spears
And water'd heaven with their tears:
Did he smile his work to see?
Did he who made the Lamb make thee?
Tyger Tyger burning bright,
In the forests of the night:
What immortal hand or eye,
Dare frame thy fearful symmetry?
AG (giving immediate political context):  "The Tyger, in honor of the plutonium wrath. So the Rocky Flats Truth Force will be holding a celebration/memento/mindfulness week for Hiroshima and Nagasaki Day, so you can come to the railroad tracks at Rocky Flats to take part in accompanying them, (who've been there, patiently, for a month), bring your mindfulness and bring your zafus… That will be between August 6th and 11th and that'll be announced. There's a dance on August 5th to raise money and from August 6th to 11th there'll be poetry readings, music, and meditation. You can check that out at the Rocky Flats Truth Force which is on 14th and Aurora (876 14th Street) [in Boulder] and they have a phone number 443-0887. So, bring your mindfulness to the address or to the phone or to the tracks)…This is followed by an unaccompanied reading of "Guru Blues" – "Father Guru unforlorn/Heart beat guru whom I scorn/Empty Guru Never Born/Sitting Guru every morn/Angry Guru Faking Porn/Guru Guru Freely torn/Garment guru neatly worn/Guru Head short hair shorn/Absent Guru. Eyes I morn/Guru of Duncan Guru of Dorn/Ginsberg Guru like a thorn/Goofy Guru Lion Horn/Lonely Guru Unicorn/O Guru whose slave I'm sworn/Save me Guru Om Ah Hūm"
"I'm reading poems from the last year [1977]", Allen declares.
The next poem (as with the previous, subsequently included in the volume Plutonian Ode And Other Poems 1977-1980) – Grim Skeleton – " Grim Skeleton come back & put me out of Action/ looking thru the rainy window at the Church wall/ yellow vapor-lamped, 9pm Cars hissing in street water/- woken dizzy from nicotine sleep – papers piled on/my desk/myself lost in manila files of yellow faded newspaper/Clippings.."… "Agh! Who'll I read this to like a fool!, Who'll applaud/ these lies"
This is followed by "the third in a series of poems that I read here last summer [1977] for low voice, love poems"  –  "Lack Love" – "Love wears down to bare truth/My heart hurt me much in youth/Now I hear my real heart beat/ Strong and hollow thump of meat…"
and [Allen reads a rare unpublished poem here] – "To Philip Lamantia" -"I take your God and reduce it to a shuddering morsel"… "like the sound of a wet apple core falling out of a waste-paper basket"
Finally, a reading of the then recently-completed "Plutonian Ode"
AG: "I have to thank Gregory Corso for a lot of the astrologic/astronomical and scientific facts in here –  "Plutonian Ode".. so that you might know, yeah, some of the…footnotes. As Gregory told me, there was a temple in Eleusis where Hades was worshipped, Demeter's.. in Eleusis, where Hades was worshipped, the sacrificer sacrificing a black sheep, averting his face from the underworld. And some say that the length of the universe, or the age of the universe, is four billion years, and some say eight billion years. I used four billion years in this text – So, it's in three parts [Allen proceeds to read "Plutonian Ode"]  – "What new element before us unborn in nature? Is there a new thing under the Sun?"…"… [concluding, slightly differently to the published version] "…thus approve this mantra – gone, gone, gone beyond, gone beyond me, into wakened space – svaha"
(Michael Brownstein, m-c for the occasion, then thanks the audience for coming "on this the longest day of the year and the hottest" and announces that the following week there will be a reading featuring Michael McClure, Jack Collom and himself – tape ends)
(Audio may be heard here)