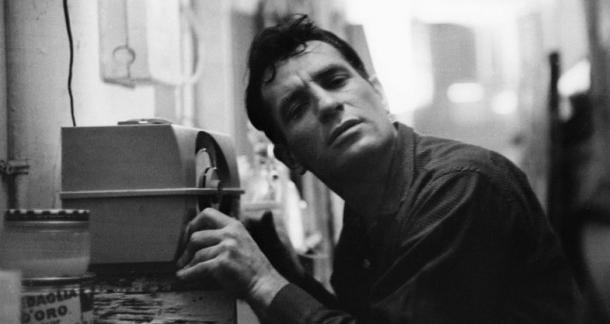 Jazz and the Beat Generation – 
from
On The Road
–  "
They ate voraciously as Dean [Neal Cassady], sandwich in hand, stood bowed and jumping before the big phonograph, listening to a wild bop record I had just bought called "The Hunt," with Dexter Gordon and Wardell Gray blowing their tops before a screaming audience that gave the record fantastic frenzied volume."
Allen Ginsberg – on "Howl" – "Lester Young, actually, is what I was thinking about. "Howl" is all "Lester Leaps In". And I got that from Kerouac. Or paid attention to it on account of Kerouac, surely – he made me listen to it."
"No periods…but the vigorous space dash separating rhetorical breathing (as jazz musician drawing breath between outblown phrases)…"- Jack Kerouac (from "Essentials of Spontaneous Prose") 
Yeah, Kerouac learned his line – directly from Charlie Parker, and (Dizzy) Gillespie, and (Thelonious) Monk. He was listening in (19)43 to Symphony Sid and listening to "Night in Tunisia" and all the Bird-flight-noted things which he then adapted to prose line" (Allen Ginsberg)
Lester Young's birthday yesterday, Charlie "Bird" Parker's tomorrow. Jazz is our focus on the Allen Ginsberg Project for the next few days –  Jazz and the Beat Generation. 
We'll direct you, first off, to Mike Janssen over at Literary Kicks for a useful intro'. 
(and for our Spanish readers – Adrian Barahona)
more tomorrow!