AG: Andre Breton (was) born (chronologically, a little) later (than Tzara) (and is) actually considered by the French to be a great writer and theoretician. I find his own writing, actually, a little bit wooden and his prose arid, but that's, apparently, a solitary opinion, because many French speakers say that Breton is very brilliant as a writer. There's a funny tone that he's got of imperious insistent proclamation and manifesto stubbornness, which is interesting, and which carries over into the work of a (contemporary) American Surrealist – Franklin Rosemont, and Philip Lamantia. You can tell. You have some of the same tone in Lamantia's poems, which are in this book (this anthology) too. Like, a prophetic imperiousness, I guess you'd call it.
But there is one great poem by Breton, which is the singular seminal "list poem" of the twentieth-century – "L'Union libre" ("Free Union") – which many people have read, and many people have imitated, and (it) has turned on many people, just to the total freedom of writing anything you want, once you start one of those lists.
His list is about his wife, which should be a serious subject and should, presumably, evoke all sorts of nostalgic and sentimental, or romantic, faithful, or sincere improvisations, but what you get is a real twentieth-century dissonance and absolute reliance on the unconscious. And so it's a portrait of his wife, sort of Cubist (in the sense of, from a lot of different angles) but, at the same time, absolutely ridiculous, and even ugly at times, and then, at other times, very romantic and exquisite. So, "Free Union", meaning the free union of language, free union of marriage, and free union of language and free marriage of words –  that he can put any words together that he wants, according to the dictates of some area of the vocal consciousness, (probably between the back lobe of the brain and the breast bone). According to the American Surrealist, Philip Lamantia – who says that Surrealist language is dictated – (that it) is (from a) certain area of the brain, (that) somewhere between subliminal and (the) dream is the source of poetry, is the source of true poetry – and the whole method of William Carlos Williams and literality, and Ezra Pound, and my own method, is a complete materialistic fraud – that poetry has to be absolutely inspired and accurate to the unconscious dictation, that any poetry which is composed by relating to the external phenomenal world and trying to notate that, as in the method of (Paul) Cezanne that I was describing (to reconstitute the little sensation (petite sensation) of phenomena), by picking out the highlights of phenomena and arranging them in words on a page, is practicing some kind of materialistic heavy-handed creepy vegetable poetry. In fact, Lamantia wrote a long essay denouncing Willams and Pound and myself in a Surrealist review for that reason (and I think he's got good reason in a way).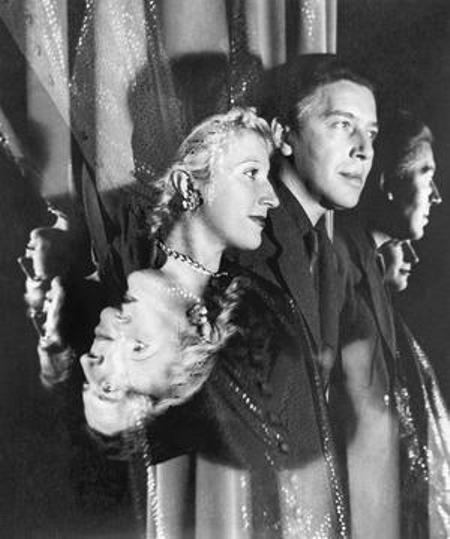 L'Union libre
Ma femme à la chevelure de feu de bois
Aux pensées d'éclairs de chaleur
A la taille de sablier
Ma femme à la taille de loutre entre les dents du tigre
Ma femme à la bouche de cocarde et de bouquets d'étoiles de dernière grandeur
Aux dents d'empreinte de souris blanche sur la terre blanche
A la langue d'ambre  et de verre frottés
Ma femme à la langue d'hostie poignardée
A la langue de poupée qui ouvre et ferme les yeux
A la langue de pierre incroyable
Ma femme aux cils de bâton d'écriture d'enfant
Aux sourcils de bord de nid d'hirondelle
Ma femme aux tempes d'ardoise de toit de serre
Et de buée aux vitres
Ma femme aux épaules de champagne
Et de fontaine à têtes de dauphins sous la glace
Ma femme aux poignets d'allumette
Ma femme aux doigts de hasard et d'as de cœur
Aux doigts de foin coupé
Ma femme aux aisselles de martre et de fênes
De nuit de la Saint Jean
De troène et de nids de scalares
Aux bras d'écume de mer et d'écluse
Et de mélange du blé et du moulin
Ma femme aux jambes de fusée
Aux mouvements d'horlogerie et de désespoir
Ma femme aux mollets de moelle de sureau
Ma femme aux pieds d'initiales
Aux pieds de trousseaux de clefs aux pieds de calfats qui boivent
Ma femme au cou d'orge imperlé
Ma femme à la gorge de val d'or
De rendez-vous dans le lit même du torrent
Aux sens de nuit
Ma femme aux seins de taupinière marine
Ma femme aux seins de creuset du rubis
Aux seins de spectre de la rose sous la rosée
Ma femme au ventre de dépliement d'éventail des jours
Au ventre de griffe géante
Ma femme au dos d'oiseau qui fuit vertical
Au dos de vif argent
Au dos de lumière
A la nuque de pierre roulée et de craie mouillée
Et de chute d'un verre dans lequel on vient de boire
Ma femme aux hanches de nacelle
Aux hanches de lustre et de pennes de flèche
Et de tiges de plumes de paon blanc  De balance insensibleMa femme aux fesses de grès et d'amiante
Ma femme aux fesses de dos de cygne
Ma femme aux fesses de printemps
Au sexe de glaïeul
Ma femme au sexe de placer et d'ornithorynque
Ma femme au sexe d'algue et de bonbons anciens
Ma femme au sexe de miroir
Ma femme aux yeux pleins de larmes\
Aux yeux de panoplie violette et d'aiguille aimantée
Ma femme aux yeux de savane
Ma femme aux yeux d'eau pour boire en prison
Ma femme aux yeux de bois toujours sous la hache
Aux yeux de niveau d'eau de niveau d'air de terre et de feu
translation by Eduardo Roditi :
Free Union
My wife with the hair of a wood fire
With the thoughts of heat lightning
With the waist of an hourglass
With the waist of an otter in the teeth of a tiger
My wife with the lips of a cockade and of a bunch of stars of the last magnitude
With the teeth of tracks of white mice on the white earth
With the tongue of rubbed amber and glass
My wife with the tongue of a stabbed host
With the tongue of a doll that opens and closes its eyes
With the tongue of an unbelievable stone
My wife with the eyelashes of strokes of a child's writing
With brows of the edge of a swallow's nest
My wife with the brow of slates of a hothouse roof
And of steam on the panes
My wife with shoulders of champagne
And of a fountain with dolphin-heads beneath the ice
My wife with wrists of matches
My wife with fingers of luck and ace of hearts
With fingers of mown hay
My wife with armpits of marten and of beechnut
And of Midsummer Night
Of privet and of an angelfish nest
With arms of seafoam and of riverlocks
And of a mingling of the wheat and the mill
My wife with legs of flares
With the movements of clockwork and despair
My wife with calves of eldertree pith
My wife with feet of initials
With feet of rings of keys and Java sparrows drinking
My wife with a neck of unpearled barley
My wife with a throat of the valley of gold
Of a tryst in the very bed of the torrent
With breasts of night
My wife with breasts of a marine molehill
My wife with breasts of the ruby's crucible
With breasts of the rose's spectre beneath the dew
My wife with the belly of an unfolding of the fan of days
With the belly of a gigantic claw
My wife with the back of a bird fleeing vertically
With a back of quicksilver
With a back of light
With a nape of rolled stone and wet chalk
And of the drop of a glass where one has just been drinking
My wife with hips of a skiff
With hips of a chandelier and of arrow-feathers
And of shafts of white peacock plumes
Of an insensible pendulum
My wife with buttocks of sandstone and asbestos
My wife with buttocks of swans' backs
My wife with buttocks of spring
With the sex of an iris
My wife with the sex of a mining-placer and of a platypus
My wife with a sex of seaweed and ancient sweetmeat
My wife with a sex of mirror
My wife with eyes full of tears
With eyes of purple panoply and of a magnetic needle
My wife with savanna eyes
My wife with eyes of water to drink in prison
My wife with eyes of wood always under the axe
My wife with eyes of water-level of level of air earth and fire
[Audio for the above can be heard here, beginning at approximately nine and three quarter minutes in and concluding at approximately thirteen and a half minutes in]