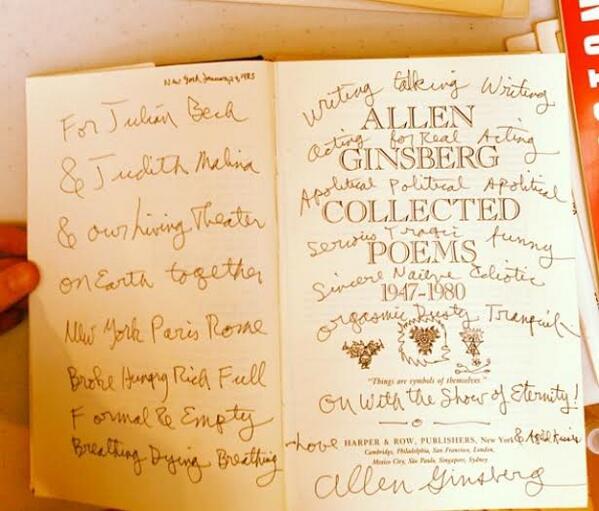 Here's a sweet little snippet of grainy video – Allen Ginsberg, in 1976, in Larry Rivers' loft in Manhattan, improvising a twelve-bar blues, recollecting the life-changing experience that he'd had the previous months (specifically, an extended Vajrayana meditation retreat, with his teacher Chogyam Trungpa and students, at a hastily-convened seminary at Land O'Lakes, in Northern Wisconsin)
– "I haven't been in New York City three months out of this year/But I've been three months meditating and there I did not shed a tear/In fact, I cursed the ghost of William Blake and got rid of all of my fear.."
Speaking of Chogyam Trungpa. Here's Ram Dass (we featured Ram Dass and Allen in conversation last weekend) recollecting the early days at Naropa (a "shout-out" to Naropa on it's 40th anniversary). Week three of the Summer School begins next week – "Lineages, Histories, Archives and Beyond – Roots, Elders, Maps"..
John, he (
Jack Kerouac
) was just like you – a frightened man. Everybody, everything frightened Jack. You wouldn't have come here [
Allen's home on East 12th Sreet
] half-drunk and bringing beer – and then buying more beer, if – alcoholic or not – you weren't scared. And I'm not sure of what. Well, Jack was the same. The world was a playground he couldn't join, (it) was all horror to him.." – The "John" here is John Langsdorf, and the recollected conversation, part of an e-book recently (posthumously) published,  
Are You Cute? – A Visit with Allen Ginsberg
,
detailing a visit the then-twenty-two-year-old author made to the poet, back in 1979
Speaking of Ginsberg memoirs, Marc Olmsted's Don't Hesitate – Knowing Allen Ginsberg is forthcoming from Beatdom "break(ing) new ground as a composite scrapbook-journal-memoir-poetry collection". We'll have more to say about it on its release in August
David Trinidad, over at the Poetry Foundation, on meeting Allen Ginsberg:
"I studied with Allen Ginsberg at Brooklyn College in the late eighties. I found him problematic as a teacher – he didn't seem to know what to make of my poems (in part, because they weren't imitations of his), and that made me dig in my heels. A fellow student recently reminded me that one week in workshop, after I read a poem, Allen said, "Well, this isn't very good is it?". I'd blocked that out of my memory. But it was always great to be in his presence – he was Allen Ginsberg. Later, after I graduated, he praised my work publicly. And was kind to me when my mother died. Was he my friend? He said so when he inscribed my copy of White Shroud He signed it at a gathering on May 22, 1989 at his apartment on 12th Street. After he wrote and drew in his book, he went to a bookshelf and took down one of mine. I'd mailed it to him years before I was his student. Inside was a typed letter, which he pointed out I had failed to date. "You should date everything", he said. Oh Allen, since that night I have.
Neeli Cherkovski and friends celebrate the birthday-boy at the Beat Museum in San Francisco 
Here's a great bit of audio – Mark Lally (no relation to our good friend, Michael Lally) interviewing Allen in England in 1984 (Allen sings the praises of The Clash, corrects him on his pronumciation of the Yage ("yah-hey") Letters)
Burroughs' biography continues to get enthusiastic responses. Here's Jesse Walker's piece for Reason.