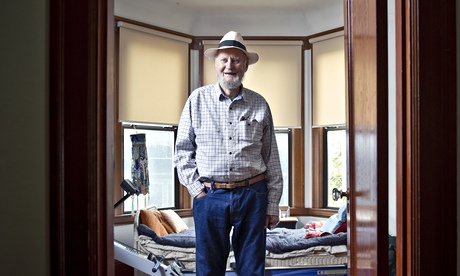 An article in The (London) Observer last month on San Francisco and the alarming effects of the dot.com boom, "Is San Francisco losing its soul?" paid the obligatory visit to Lawrence Ferlinghetti – "He complains of a soulless group of people, a "new breed" of men and women too busy with iPhones to "be here" in the moment, and shiny new Mercedes Benzs on his street…"It's totally shocking to see Silicon Valley take over the city." says Ferlinghetti who still rents in North Beach. "San Francisco is rapidly changing and we don't know where it is going to end up"
San Francisco's (and, indeed, America's) conscience, Lawrence Ferlinghetti, turns ninety-five years old today
– and, as we reported on Friday shows little signs of "letting up".
Blasts Cries Laughter, his most recent poetry pamphlet, came out earlier this year from New Directions.  Time of Useful Consciousness, a more extensive collection, remains available (alongside other books) from the same publishers.
In September of 2015, Liveright will publish Writing Across Landscape: Travel Journals (1950-2013) – wonderful news, since, as well as unpublished work, the book will include a number of hithero out-of-print, hard-to-find, Ferlinghetti titles.
Earlier Ferlinghetti's-Birthday-on-the-Allen Ginsberg Project posts may be viewed here, here,
here
and here.
Here's Pico Iyer in the LA Times on City Lights
Where's the piece in today's San Francisco papers?
Happy 95th Birthday, Lawrence!
Some Ferlinghetti-on-video – here, from last year (recalling his Italian heritage – and with a little help from, of all people, Johnny Cash!):
The trailer for Christopher Felver's, frankly essential, 2009 documentary, Ferlinghetti – A Rebirth of Wonder:
Ferlinghetti defends free speech and (into the office video-cam) reads us a little James Joyce:
His reading at the Everhart Museum in Scranton Pennsylvania on September 30 1984 has fortunately been preserved for posterity (digitalized archival video) – here and here
Twenty one years later, another great Ferlinghetti reading (in four segments) in San Diego at the wonderful D.G.Wills Bookshop is likewise preserved for us (in color, and better sound-quality) –  here, here, here and here
Here's his farewell poem to Allen.
Here's Lawrence and Allen together in Lowell