March madness. Ginsberg silliness. It's not April Fools Day yet, but will be soon.
First off, Exploitation Corner – more bizarre, inappropriate items, starting with..
Surely what the world needs! – an  "Allen Ginsberg  Luggage Tag" !
The same company offers an "I heart Howls [sic] Reusable Shopping Bag"

(presumably for those moments of "hungry fatigue" when you find yourself (lycanthropy temporarily under control) in the supermarket, "shopping for images"! )
Need to have Allen watching you shower?  Well you, clearly, need, (for only $68!), an Allen Ginsberg shower-curtain!
or perhaps you'd like that purloined image on a clock ?
You just know Allen was thinking about all this that night he sat down to write in San Francisco, right? – right?
"Onesies" are one of our particular favorites. If you're going to buy "onesies", we strongly suggest you buy onesies from City Lights. Indeed, for non-exploitative shopping, for "merchandise", City Lights is the place
and also the Allen Ginsberg Estate (for officially-sanctioned items – and with more to come)- see here)
The Allen Ginsberg Estate did officially sanction the PressPop "limited edition" Allen Ginsberg doll, yes. (it's sold-out)
Recently-available from us – the (tastefully-designed) Harry Smith mug – Allen's iconic logo – now you can drink your coffee out of it (while meditating on the enigmatic three-fish-with-one-head)
Do you find this particularly funny? (A Prairie Home Companion) –  Well some folks apparently do.
Time to give another "shout-out", in case you've never seen it, to "Yelp"
In other news:
Peter Aspden reviews the new Kerouac novella in the Financial Times
James Grainger reviews the new Burroughs biography in the Toronto Star
Kerouac week this past week – Todd Tietchen – "On Kerouac's Maximalist Writings and Unfinished Works in The Huffington Post. Also in The Huffington Post, enthusiastic student, Odelia Kaly.  (Predictably, New Republic churn out a 42-year-old (sic) hatchet-job – "Jack Kerouac Wrote On The Road in Three Weeks. It Shows.")
Breaking news – the maverick, idiosyncratic, American poet, Bill Knott died this week (Wednesday) (he was 74)
and, The New York Times quotes Allen's great line (from Memory Gardens) ("Well, while I'm here, I'll do the work – and what's the work? – To ease the pain of living..") in its obituary notice on the tragic early death of award-winning travel journalist Matthew Power (he was only 39!).
Don't miss Power's candid and sweet memories of Allen here. We mean, really – don't miss it. (hear Matthew reading the memoir here)
Next Tuesday (March 18) John Krokidas' Kill Your Darlings becomes available in the US on Blu-ray and DVD  (it'll be available elsewhere (Australia, April 3, the UK, April 21) shortly)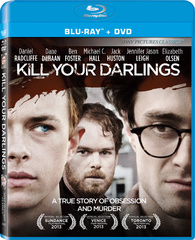 Stay tuned.