Thirteen years ago today since
 Gregory Nunzio Corso
passed away. We certainly won't forget him. Here's the opening track from the album, "Not In My Back Yard" by the Southern Italian band, 
Nimby
–
 "Thin Lines Among Them", dedicated to him, and scored to footage from 
Matteo Scarfo
's upcoming movie
"Bomb! Burning Fantasy"
, a meditation on Gregory's poetry and life, (which will feature 
Nick Mancuso
in the daunting role of.. Gregory).Corso is all over The Allen Ginsberg Project. How about
here
,
here
,
here
,
here
,
here
,
here
and
here
?
and how about
 here,
here
,
here
 – and (unforgettably)
here
Bart De Paepe's Sloow Tapes label out of Belgium has just put out some early Ginsberg on cassette tape – London Mantra – Check out
Gerard Bellaart's cover art. See below:

"It's a recording George Dowden made at his home in July 1973″ (so we're informed).The tape features "Ginsberg solo on his harmonium, singing Indian mantras and a few of his own songs.
The death of Amiri Baraka last week left a gaping hole and we're still coming to terms with the loss and with his achievement. Last week, we provided links to a number of obituary notices. Here are a couple more  Hillel Italie's widely-distributed note on the AP wire-service may be read, for example (in an updated version) here David Jones (similarly updated) notification for Reuters can be seen here Both choose to employ judiciously equivocal language. Hillel – "He was denounced by critics as buffoonish, homophobic, anti-Semitic, a demagogue. He was called by others a genius, a prophet.." – Jones – "He won fame in some circles, notoriety in others". The New York Times, perhaps, set the template, with its headline – "Amiri Baraka, Polarizing Poet and Playwright.." ("a poet and playwright of pulsating rage, (who)..was called incandescent in some quarters and incendiary in others..") but it was one that was persistently repeated – the equivocal (or, more accurately, the dialectical (sic – not diametrical, certainly not singular)) – Neda Ulaby, for example, at NPR, leading off her "All Things Considered" report, under the heading "Amiri Baraka's Legacy Both Controversial and Achingly Beautiful".
Ishmael Reed (on the blog of the Wall Street Journal, no less! – it's own obit notice may be accessed here, incidentally) addresses this and other matters (what he fingers as "the indolent obituaries") in an honest, measured and intelligent piece that is, frankly, a "must-read" – "Amiri Baraka and I clashed. Often", Reed writes – And, of course, he was "controversial" – "(He) was controversial, because his was a perspective that was considered out of fashion during this post race ghost dance, the attitude that says because we (the US) have (had) a black president, racism is no longer an issue, when the acrimonious near psychotic reaction to his  election only shows the depth of it..Baraka was the kind of writer who comes along once in a generation or so. I once said that he did for the English syntax what (Thelonious) Monk did with the chord. He was an original."
Another peer, Sonia Sanchez, is quoted in The Philadelphia Inquirer – "You don't want to believe this [his passing], because of the history and her-story of this man, his impact on our literature and our country. He has meant so much."
She gets to further articulate her grief, as part of a four-person panel in the singularly most comprehensive (and most useful) post-January 9th coverage – Amy Goodman and Juan Gonzales' irreplaceable "Democracy Now" (also on the panel, Felipe Luciano, Komozi Woodard, author of A Nation Within A Nation – Amiri Baraka and Black Power Politics, and Newark, New Jersey activist, Larry Hamm   This one-hour show can be accessed here (with a further on-line only, extended interview, here).
More Baraka links, worthy of your attention – Baraka's son, Ras Baraka remembers his father here, Hilton Als fondly recalls his visits to the LeRoi Jones-Hettie Jones (Hettie Cohen) household, Joshua Furst defends Baraka against charges of anti-semitism in the Jewish Daily Forward. Michael Gonzales in Ebony surveys the all-important, historically-significant Black Arts Movement, Anna Merlan surveys Baraka's various appearances in the one-time "alternative", Village Voice
"Questlove" (Ahmir Thompson), drummer with The Roots, and author of Mo' Meta Blues. 
in last Sunday's New York Times – "In Baraka, Inspiration Came With Provocation", Hector Tobar and Carl Hancock Rux in the LA Times, Bernardine Everisto in The Guardian…
His NPR 1986 Fresh Air interview with Terry Gross is available here. Pacifica Radio presents three seperate recordings – from 1964, from 1984, and a 2011 interview with Joanne Griffith..
An important trove of recordings are available on Ubuweb. PennSound's recordings are available here
Amiri's wake takes place from 4 to 9 today at the Metropolitan Baptist Church on Springfield Avenue in Newark. The funeral will take place tomorrow at the Newark Symphony Hall 1020 Broad Street. The Schomburg Center for Research in Black Culture in Harlem will be hosting a memorial on February 8th.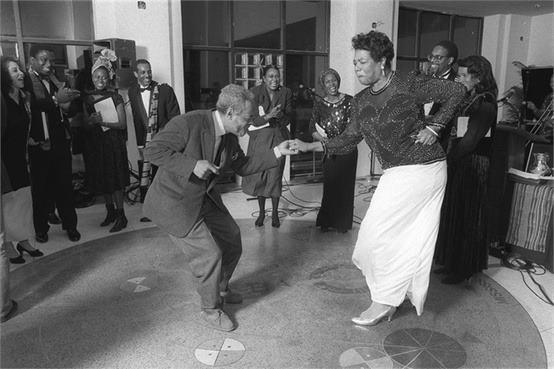 Burroughs Centennial preparations continue apace –  the Creative Observer show opens with a reception tonight in Lawrence (Kansas) at the Lawrence Art Center. This stunning exhibit consists of an extraordinary amalgam of "shot-gun art", stencil work, collage work, writings, scrapbook presentations, alongside full-scale artistic collaborations. Yuri Zupancic, one of the curators (and the art director of William Burroughs Communications) is creating a multi-media installation in the front gallery – "a projection of Burroughs' face will turn a mannequin wearing his actual suit and hat into a talking effigy, reading from his novels"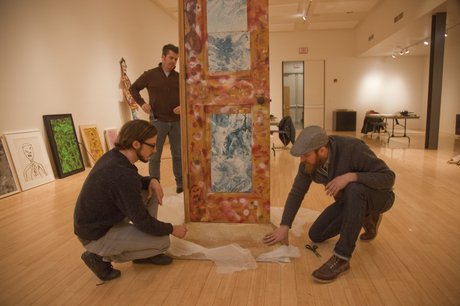 – and just opened in London, England, at the Photographers' Gallery, (through to the 30th March) William S Burroughs – Taking Shots. For a review and more on that – see here – and here