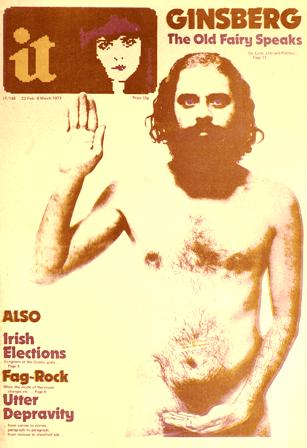 Publication of Bernard Kops' lucid memoir/poem, "On Meeting Allen Ginsberg In Tel Aviv 1961", in the current newly-reconstituted, digitalized, cyber-friendly, International Times, set us to wondering about that bastion of "the underground", (as it was once deemed) – "IT" – England's provocative and pioneering "alternative newspaper" (now gloriously accessible, its extensive archives – every single issue! – freely available, on-line. For hours of nostalgic browsing, click here)
The issue shown above is reasonably late (dating from 1973) and features the bulk of what would subsequently be published by Donald M Allen's Grey Fox Press as the Gay Sunshine Interview. For facsimile reproduction see here and here and here.
Other Ginsberg gems from the archive include, a November 12 1966 address from Arlington Street Church, Boston – here and here, and his 1967 essay, "Reflections on the Mantra", and his 1968 interview with Maharishi Mahesh Yogi.
The International Times Archive was founded by Mike Lesser in 2009. An annotated and illustrated bibliographic review of IT 1966-1996 by Chris Brook can be found here.